Bonnie Tyler To Sing Her Hit During the Eclipse!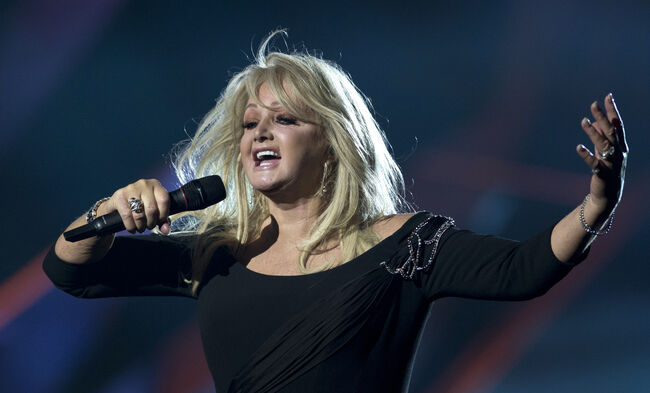 The cool thing about fame is that you never really become UN-famous. You just go into a sort of limbo while you wait for your turn to come around again. And that's happening right now for BONNIE TYLER.
If you don't know Bonnie Tyler, you are forgiven. It's been a while. She hit the height of her fame, like, 35 years ago, and her biggest hit was a little song called "Total Eclipse of the Heart".
And it's thanks to that song that Bonnie is relevant again in 2017. She even squeezed a gig out of it.
Royal Caribbean is doing a "Total Eclipse Cruise", and Bonnie will be on that boat on Monday to sing "Total Eclipse of the Heart"DURING the eclipse! She'll be backed by JOE JONAS' band, DNCE.
She says, quote, "It's going to be so exciting. It doesn't happen very often, does it?"
YouTube says views of the "Total Eclipse of the Heart" video have gone up in anticipation of the eclipse. The official video currently has more than 300 million views.
(FULL STORY Time, Image (c) 2017 Getty Images)
I wonder if Bonnie heard about our contest? Check it out!
One Monday August 21st between 2 and 3pm, Q92 celebrates the 20-17 solar eclipse …with a contest that only comes along once every 99 years!Listen to Q92 starting at 2pm as we'll play "Total Eclipse of the Heart" by Bonnie Tyler…not just once… but all hour long til 3pm!Then at 3pm we'll start with caller 9 at 845-471-9292 to tell yours truly Chris Marino the total number of times we played the song in the 2pm hour. The first correct answer wins a Mega-Pack of theme park tickets to wrap up the summer! Splashdown Beach, Lake Compounce, Zoom Flume, Mountain Creek, Six Flags Great Escape and Playland! Four tickets to each! It's the least we can do for making sit through an hour of the same song over and over again!! lol
Listen to Q92 during the eclipse this Monday afternoon at 2 for a shot to win!!