Truck Carrying Chickens Crashes …And Chickens Were EVERYWHERE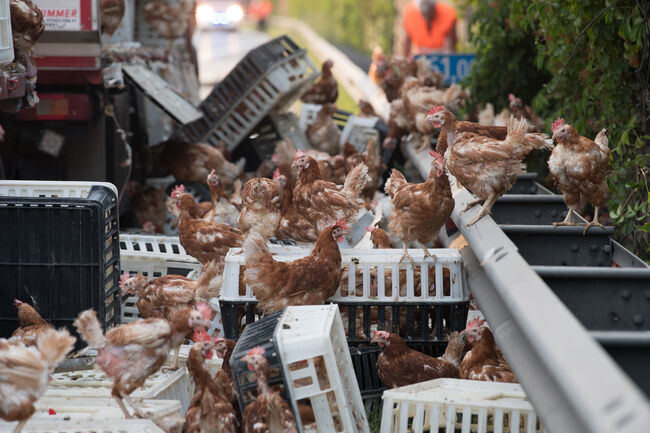 Imagine driving down the highway early in the morning and seeing live chickens running around all over the place.
That was the scene on a California highway in the early morning hours yesterday as a truck carrying hundreds of live chickens crashed and burst into flames.
First responders showed up at the scene to find the big rig hauling the poultry to a processing plant fully engulfed in flames and "chickens everywhere" throughout the collision scene. 
The crash left charred debris and chickens scattered all over the freeway. Once firefighters extinguished the flames, they began to round up chickens that were scattered near the crash scene. Animal control officials and Richmond firefighters were brought in to help remove the birds from the scene.
The driver was treated with minor injuries but the road was closed for over eight hours while they worked to clean up the area.

Jackie Ward✔@JackieKPIX
 ·Sep 5, 2019
Replying to @JackieKPIX
All lanes on this part of 80 WB are closed. The Richmond Fire Department and CHP are on scene. Animal Control is on its way. From our vantage point, we can see that some chickens are still alive. @KPIXtv

Jackie Ward✔@JackieKPIX
The CHP officer I spoke to said he estimates 1,000 chickens were on the big rig. He doesn't know where they were coming from or where they were headed. @KPIXtv

2
8:57 AM - Sep 5, 2019
Twitter Ads info and privacy
See Jackie Ward's other Tweets

Gianna Suter-Franco✔@gianna_franco
Big rig fire carrying live chickens in San Pablo has all lanes shut down WB 80 at San Pablo Dam Rd. Traffic stacking up, use San Pablo Ave as an alternate. @JackieKPIX on scene with updates @KPIXtv#traffic#bayareatraffic

12
8:07 AM - Sep 5, 2019·San Francisco, CA
Twitter Ads info and privacy
See Gianna Suter-Franco's other Tweets
Source: KPIX© 2019 GettyImages